Product Description
Type F Aluminum Hose Fitting Quick Coupling Quick Release Fluid Safety Camlock Coupling
Aluminum cam and groove adapters are produced according to A-A-59326(replacing original standard Mil-C-27487) or EN14420-7(replacing DIN 2828), size from 1/2″ to 8″. The coupling of cam grooves between manufacturers are interchangeable, but no 1/2″(12.7 mm), 5″(127 mm), and 8″(203.2 mm) interchangeability. EN14420-7(replacing DIN 2828)Camlock coupling can be coupled with A-A-59326, EN14420-7 Camlock coupling hose tail is used in conjunction with EN 14420-3/DIN2817 Clamps.
 
| | |
| --- | --- |
| Name | Aluminum Coupling Type F |
|  Body Material:  | Aluminum |
| Size:  | From 1/2" to 8" |
| MOQ: | 50 PCS |
| Certificates:  | CE, ISO9001:2015 |
| Application:  | Water lines and irrigation in industry, construction agriculture, and horticulture. |
| Connection:  | Male thread |
| Arm Material:  | Stainless steel and brass |
| Working pressure: | 50-250 CHINAMFG (It depends on the size and temperature) |
| Manufacture method:  | Gravity casting |
| Operating temperature : | -40 to 145ºC(depending on the rubber ring material) |
| Thread:  | BSP, BSPT, NPT, G(ISO228.1), and R(DIN2999). |
Camlock fittings provide a simple and reliable method for connecting and disconnecting hoses, with good wear resistance, chemical resistance and economic cost. These camlock fittings can transport gasoline, hydraulic oil, kerosene, water, mud, saltwater, acid, and alkaline fluid media by connecting PVC pipes, rubber hoses, etc. It has the advantages of quick connection, flexible disassembly and labor-saving.
The use and connection way of the cam and groove couplings:
Type D Camlock can usually be used with E, F, and (Dust Plug) types.
To make a connection, simply slide the Camlock adapter into the Camlock coupling, and with normal hand pressure, press the cam levers down.
Camlock fittings Feature:
Economy, lightweight, convenience, interchangeability   
Connect without tools
Good corrosion and chemical resistance
Camlock fittings industry applications:
 Industry: Petroleum, mining, municipal, construction, chemicals, agriculture
 Applications: Fuel Transport, Hydraulic Oil, Petroleum Products, Irrigation, Water Treatment, Salt Water, Waste Water, Chemical Transport, and Storage
 Camlock fittings are not suitable for conveying compressed air and steam.
Our Advantage
We are experienced as we have been in this industry as a manufacturer for more than 10 years. Both quality and service are highly guaranteed. Absolutely prompt delivery. We can produce according to specific drawings from customers. Welcome OEM/ODM project. Strict control on quality. High efficient and well-trained sales service team.  ISO9001, CE, and SGS certified.
FAQ
1. Q: Are you a producer or trading company?
    A: We are an experienced manufacturer. We own a production line and kinds of machines.  
2. Q: Can you make our specific logo on the part?
    A: Yes please provide me your logo and we will make your logo on the part.
3. Q: Can you manufacture products according to my drawings?
   A: Yes we can manufacture according to the client's drawings if drawings or samples are available. We are experienced               enough to make new tools.
4. Q: Can I get some samples?
    A: We are honored to offer you our samples. Normally it is for free like 3-5 pcs. It is charged if the samples are more than 5        pcs. Clients bear the freight cost.
5. Q: How many days do you need to finish an order?
    A: Normally it takes about 30 days to finish the order. It takes more time around CHINAMFG season, or if the order involves many        kinds of different products.  
6. Q: What kind of rubber washer do you apply to Camlock couplings?
     A: Normally we use an NBR gasket.
contact-info.html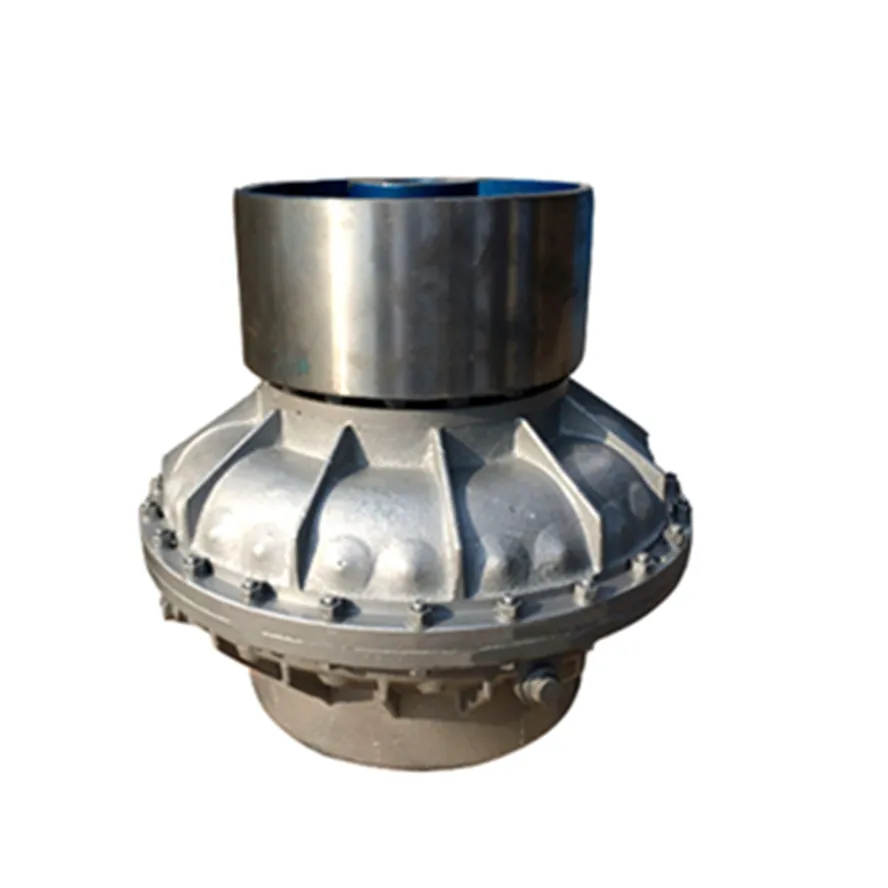 Factors to Consider when Choosing between a Fluid Coupling and a VFD (Variable Frequency Drive)
When selecting between a fluid coupling and a VFD for a power transmission application, several factors should be taken into account:
Speed Control Requirements: Consider whether variable speed control is essential for your application. VFDs are excellent for applications that require precise and flexible speed control, while fluid couplings typically offer limited speed control capabilities.
Energy Efficiency: Evaluate the energy efficiency requirements of your system. VFDs can offer higher energy efficiency by allowing the motor to run at optimal speeds, whereas fluid couplings introduce some energy losses due to slip.
Starting Torque: Examine the starting torque requirements of the driven load. Fluid couplings can provide high starting torque and smooth acceleration, which may be advantageous for applications with high inertia loads.
Overload Protection: Consider the need for overload protection. Fluid couplings inherently provide some protection against shock loads by allowing slip, while VFDs may require additional protective mechanisms.
Maintenance and Service: Evaluate the maintenance and service requirements of both systems. Fluid couplings are generally simpler and require less maintenance compared to VFDs, which involve electronic components.
Cost: Compare the initial and long-term costs of both options. VFDs often have higher upfront costs but can provide significant energy savings in the long run, while fluid couplings may have lower initial costs but could lead to higher energy consumption.
Ultimately, the choice between a fluid coupling and a VFD depends on the specific needs of your application. Each option has its advantages and limitations, and a thorough analysis of the operating conditions and performance requirements will help determine the most suitable solution for your system.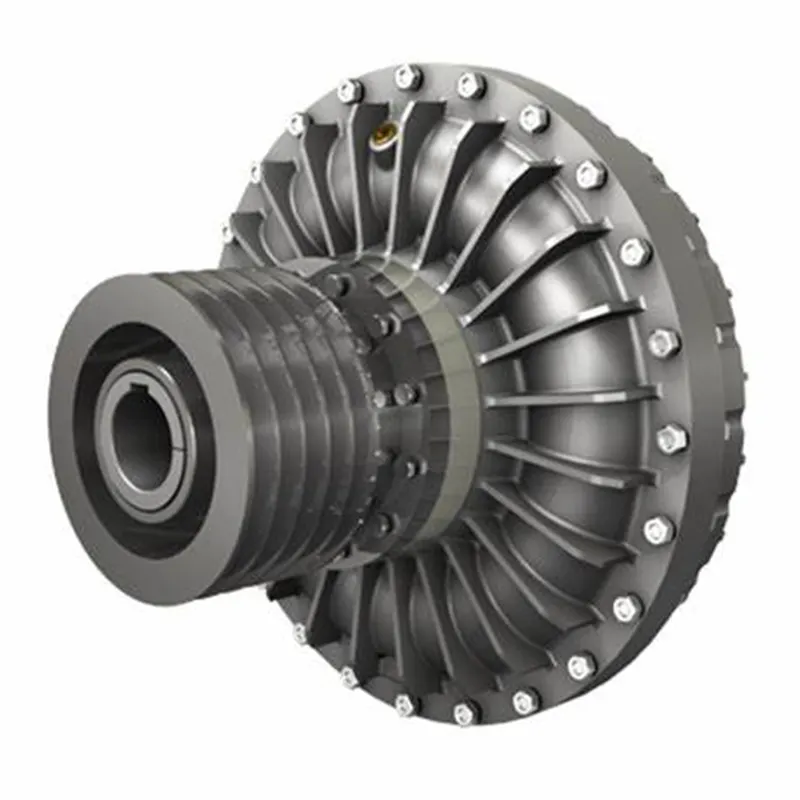 Safety Features in Modern Fluid Coupling Designs
Modern fluid coupling designs incorporate various safety features to ensure the reliable and secure operation of the equipment. Here are some of the key safety features commonly found in modern fluid couplings:
1. Overload Protection: One of the primary safety features in modern fluid couplings is overload protection. In the event of an abrupt increase in load or torque, the fluid coupling slips, absorbing the excess torque and preventing damage to the connected equipment. This feature safeguards against mechanical failures and protects the machinery.
2. Torque Limiting: Fluid couplings are designed with torque limiting capabilities, which allow them to control the maximum torque transmitted to the driven equipment. By setting the torque limit within a safe operating range, the fluid coupling prevents excessive stresses on the system, ensuring longevity and reliability.
3. Automatic Overheat Protection: Some fluid couplings are equipped with automatic overheat protection mechanisms. If the fluid coupling's operating temperature exceeds a predefined threshold, the protection system disengages the coupling temporarily until the temperature returns to a safe level. This prevents damage due to overheating and enhances safety.
4. Backstop or Holdback Device: In certain applications where reverse rotation is a concern, fluid couplings may include a backstop or holdback device. This feature prevents the driven equipment from rotating in the opposite direction, enhancing safety during sudden stops or reversals.
5. Fail-Safe Operation: Many modern fluid couplings are designed to operate in a fail-safe manner. In the event of any malfunction or failure, the coupling defaults to a safe mode, allowing the equipment to continue operating at reduced capacity or gradually shut down, avoiding catastrophic failures.
6. Seal Protection: Proper sealing is crucial for fluid couplings, especially in harsh environments. Modern designs often include advanced seal protection features to prevent oil leakage and contamination, ensuring environmental safety and reducing maintenance requirements.
7. Low Noise and Vibration: Reduced noise and vibration levels in fluid couplings contribute to operator safety and comfort. The damping properties of the fluid coupling help minimize vibrations, creating a quieter and more stable working environment.
8. Emergency Stop Capability: Some fluid couplings may have emergency stop provisions to quickly disengage the coupling in critical situations. This feature allows for rapid shutdowns in emergencies, preventing accidents and protecting personnel.
9. Condition Monitoring: Advanced fluid coupling designs may include condition monitoring capabilities. This allows operators to monitor the coupling's performance, temperature, and other parameters in real-time, facilitating predictive maintenance and avoiding unexpected failures.
Overall, the incorporation of these safety features in modern fluid coupling designs ensures the protection of machinery, operators, and the surrounding environment. These safety measures enhance the reliability, efficiency, and longevity of equipment, making fluid couplings a safe and valuable choice for power transmission in various industrial applications.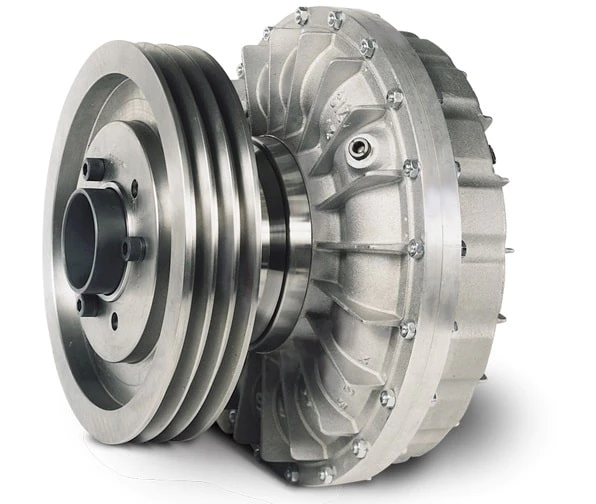 Applications of Fluid Couplings in Industrial Machinery
Fluid couplings are widely used in various industrial machinery and equipment due to their unique characteristics and benefits. Some common applications include:
Conveyors: Fluid couplings are used in conveyor systems to provide smooth start-ups and overload protection. They help in preventing damage to the conveyor belts and equipment during sudden starts and stops.
Pumps: Fluid couplings are employed in pumps to control the acceleration and deceleration of the pump impeller. This ensures a gradual and controlled flow of fluids, reducing water hammer and pressure surges.
Fans: Industrial fans often use fluid couplings to regulate fan speed and avoid abrupt changes in airflow, which can cause mechanical stress and system instability.
Mining Equipment: Fluid couplings are used in mining machinery, such as crushers and conveyors, to protect the drivetrain from shock loads and to enhance equipment reliability.
Marine Propulsion Systems: In marine applications, fluid couplings are used in propulsion systems to provide smooth engagement of the propeller, protecting the engine and transmission.
Power Plants: Fluid couplings are utilized in power plants for boiler feed pumps, induced draft fans, and other equipment to achieve smooth operation and prevent sudden stress on mechanical components.
Steel Industry: In steel mills, fluid couplings are employed in various equipment, including rolling mills and continuous casting machines, to protect the machinery and enhance productivity.
Automotive: Fluid couplings are used in automatic transmissions to smoothly transmit power from the engine to the wheels, allowing smooth gear changes and preventing driveline shock.
Wood Processing: In wood processing equipment, such as chippers and saws, fluid couplings are used to protect the equipment from shock loads and to achieve efficient power transmission.
Overall, fluid couplings play a crucial role in a wide range of industrial machinery applications, providing enhanced protection, smoother operation, and increased equipment longevity.



editor by CX 2023-10-21