Product Description
Competitive Price CNC Machining Parts Customized Threaded Brass Inserts Fluid Coupling Pump Rubber Flexible Quick Coupling
 
We Are Professional Metal Processing Factory With Modern Automation Equipment, Specialized in Precision Machining part /Turning part /Welding part /Precision Fixture.Send Us RFQ Now, We will Feedback You Competitive Quotation Within 24 Hours.
Product Description
Equipment
3-axis, 4-axis and full 5-axis processing equipment, CNC lathe, centering machine, turning and milling compound, wire cutting, EDM, grinding, etc
Processing
CNC machining, CNC Turning, CNC Milling, Welding, Laser Cutting, Bending, Spinning, Wire Cutting, Stamping, Electric Discharge Machining (EDM), Injection Molding
Materials
Aluminum:2000 series, 6000 series, 7075, 5052, etc.
Stainless steel: SUS303, SUS304, SS316, SS316L, 17-4PH, etc.
Steel:1214L/1215/1045/4140/SCM440/40CrMo, etc.
Brass:260, C360, H59, H60, H62, H63, H65, H68, H70, Bronze, Copper
Titanium:Grade F1-F5
Plastic:Acetal/POM/PA/Nylon/PC/PMMA/PVC/PU/Acrylic/ABS/PTFE/PEEK etc.
Tolerance
+/-0.002~+/-0.005mm
Our Advantages
1)24 hours online service & Quickly Quote/Delivery.
2)100% QC quality inspection before delivery, and can provide quality inspection form.
3)10+ years of experience in the CNC machining area and have a senior design team to offer perfect modification suggestions
Quality Assurance
100% Inspect Before Shipment, ISO9001:2015, ISO13485:2016, SGS, RoHs, TUV
Serface Treatment
Aluminum parts:Clear Anodized, Color Anodized, Sandblast Anodized, Chemical Film, Brushing, Polishing
Stainless Steel parts:Polishing, Passivating, Sandblasting, Laser engraving, Electrophoresis black, Oxide black
Steel parts:Zinc Plating, Oxide black, Nickel Plating, Chrome Plating, Carburized, Heat treatment
Brass parts:Nickel Plating, chrome plating, Electrophoresis black, Oxide black, Powder coated
        Click Here Get Free Quotation       
Machining Workshop
Precision Machinery Parts Sample Display
Strictly on Quality Contoul, 100% Inspect Before Shipment
        Click Here Get More Information        
Packging And Delivery
Application Industry
Areospace
Cylinder Heads, Turbochargers, Crankshafts, Connecting Rods Pistons, Bearing Caps, CV Joints, Steering Knuckles, Brake Calipers,Gears,Differential Housing, Axle Shafts
Robotics
Custom robotic end-effectors, Low-volume prototype, Pilot, Enclosures, Custom tooling, Fixturing
Medical Industry
Rotary Bearing Seal Rings for CHINAMFG Knife,CT Scanner Frames,Mounting Brackets,Card Retainers for CT Scanners,Cooling Plenums for CT Scanners,Brackets for CT Scanners,Gearbox Components,Actuators,Large Shafts
Energy Industry
Drill Pipes and Casing, Impellers Casings, Pipe Control Valves, Shafts, Wellhead Equipment, Mud Pumps, Frac Pumps, Frac Tools,Rotor Shafts and disc
Auto&Motorcycle
Cylinder Heads, Turbochargers, Crankshafts, Connecting Rods Pistons,Bearing Caps, CV Joints, Steering Knuckles, Brake Calipers,Gears, Differential Housing, Axle Shafts
Home Appliances
Screws, hinges, handles, slides, turntables, pneumatic rods, guide rails, steel drawers
Customer And Comment
More than 15 years of customer service experience in Japan, Europe and America, adapt to various technical standards (such as JIS in Japan, ASTM in America, DIN in Germany, etc. ), and it can provide a variety of materials processing and surface treatment.
Certifications
        Click Here For RFQ       
FAQ
Q1. What kind of production service do you provide?
CNC machining, CNC Turning, CNC Milling, Welding, Laser Cutting, Bending, Spinning, Wire Cutting, Stamping, Electric Discharge Machining (EDM), Injection Molding, Simple Assembly and Various Metal Surface Treatment.
Q2. How about the lead time?
Sample Production Time : Usually 5~10 Work Days
Mass Production Time : Usually 15~20 Work Days
Q3. How about your quality?
♦Our management and production executed strictly according to ISO9001 : 2008 quality System.
♦We will make the operation instruction once the sample is approval. 
♦ We will 100% inspect the products before shipment.
♦If there is quality problem, we will supply the replacement by our shipping cost.
Q4. How long should we take for a quotation?
After receiving detail information we will quote within 24 hours
Q5. What is your quotation element?
Drawing or Sample, Material, finish and Quantity.
Q6. What is your payment term?
Mould : 50% prepaid, 50% after the mould finish, balance after sample approval.
Goods : 50% prepaid, balance T/T before shipment.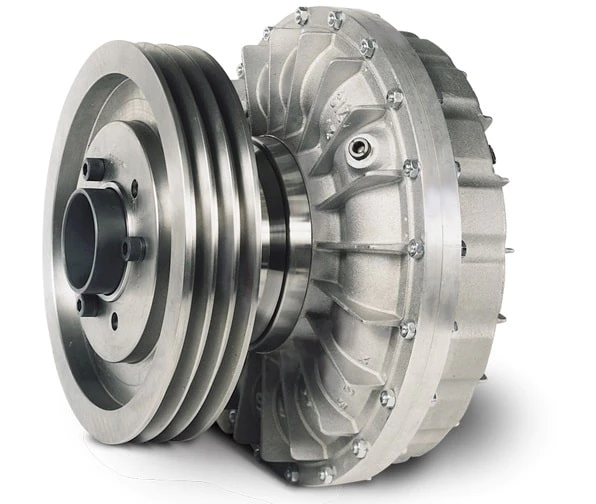 What are the Differences between Fluid Couplings and Mechanical Clutches?
Fluid couplings and mechanical clutches are both components used in power transmission systems, but they operate on different principles and have distinct characteristics:
Operating Principle:

Fluid Coupling: A fluid coupling uses hydraulic fluid to transmit torque. It consists of an impeller and a runner immersed in a fluid-filled chamber. When the input shaft (driving member) rotates, it imparts motion to the fluid, which in turn drives the output shaft (driven member).
Mechanical Clutch: A mechanical clutch relies on physical contact between friction surfaces to transmit torque. When engaged, the clutch plates or discs press against each other, creating a mechanical link between the input and output shafts.

Slippage:

Fluid Coupling: Fluid couplings allow a certain degree of slippage between the input and output shafts. This slippage provides a smooth start and helps protect the machinery from shock loads.
Mechanical Clutch: Mechanical clutches have minimal slippage when engaged, providing a direct and rigid connection between the input and output shafts.

Control:

Fluid Coupling: Fluid couplings provide automatic torque transmission without the need for manual engagement or disengagement.
Mechanical Clutch: Mechanical clutches require manual actuation to engage or disengage, allowing for precise control over power transmission.

Heat Dissipation:

Fluid Coupling: Fluid couplings dissipate heat generated during operation, which helps prevent overheating of the system.
Mechanical Clutch: Mechanical clutches may generate more heat due to friction, requiring additional cooling mechanisms in high-power applications.

Applications:

Fluid Coupling: Fluid couplings are commonly used in heavy machinery, such as mining equipment, crushers, and conveyors, where shock absorption and smooth starts are crucial.
Mechanical Clutch: Mechanical clutches are prevalent in applications where precise engagement and disengagement are required, such as automotive transmissions and manual industrial machinery.
While both fluid couplings and mechanical clutches serve the purpose of transmitting torque, their different operating principles and features make them suitable for specific applications and operating conditions.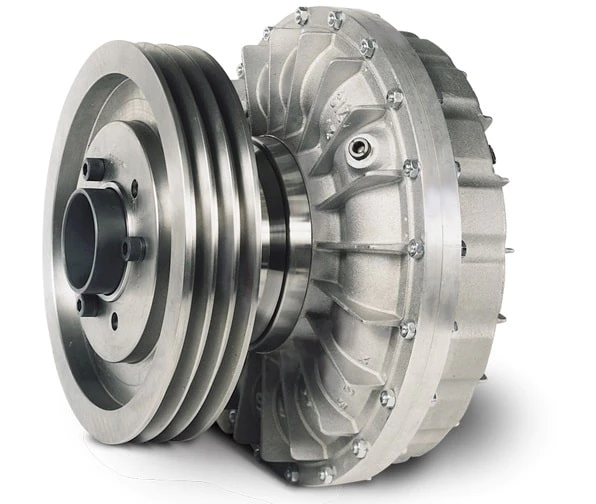 Temperature Limitations of Fluid Couplings
Fluid couplings, like any mechanical component, have temperature limitations that must be considered to ensure their proper and safe operation. The temperature limitations of fluid couplings are influenced by the type of fluid used inside the coupling, the ambient operating conditions, and the specific design and construction of the coupling.
The primary concern regarding temperature is the heat generated during the operation of the fluid coupling. The heat is a result of friction and fluid shear within the coupling as it transmits power between the input and output shafts. Excessive heat generation can lead to the degradation of the fluid, affecting the performance and longevity of the coupling.
As a general guideline, most fluid couplings are designed to operate within a temperature range of -30°C to 80°C (-22°F to 176°F). However, the actual temperature limitations may vary depending on the manufacturer and the application requirements. For specific industrial applications where high-temperature environments are common, fluid couplings with higher temperature tolerances may be available.
It is crucial to consider the operating environment and the power demands of the machinery when selecting a fluid coupling. In applications with extreme temperatures, additional cooling mechanisms such as external cooling fins or cooling water circulation may be employed to maintain the fluid coupling within its safe operating temperature range.
Exceeding the recommended temperature limits can lead to premature wear, reduced efficiency, and even mechanical failure of the fluid coupling. Regular monitoring of the operating temperature and following the manufacturer's guidelines for maintenance and fluid replacement can help ensure the longevity and reliability of the fluid coupling.
Always consult with the manufacturer or a qualified engineer to determine the specific temperature limitations and suitability of the fluid coupling for your particular application.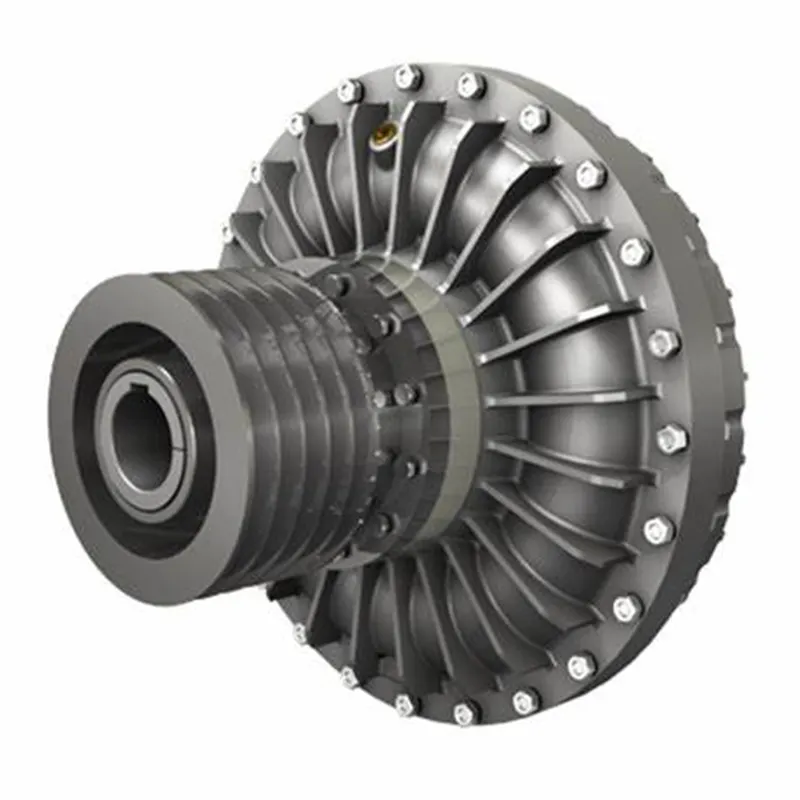 Safety Considerations when Working with Fluid Couplings
Fluid couplings are essential components in various industrial applications, and it's essential to follow safety guidelines when working with them. Here are some safety considerations:
Lockout-Tagout (LOTO): Before performing any maintenance or repair work on a fluid coupling, ensure that the equipment is properly shut down and that the energy sources are locked out and tagged out. This prevents accidental startup and protects personnel from potential hazards.
Fluid Containment: When draining or replacing the fluid in a fluid coupling, use appropriate containers to collect and contain the fluid. Avoid spills, as some coupling fluids may be hazardous.
High Temperatures: Fluid couplings can reach high temperatures during operation. Allow sufficient cooling time before handling or inspecting the coupling to avoid burns or injuries.
Personal Protective Equipment (PPE): Wear appropriate PPE, such as gloves and eye protection, when working with fluid couplings to protect against potential splashes or contact with hot surfaces.
Manufacturer Recommendations: Follow the safety guidelines and instructions provided by the fluid coupling manufacturer for installation, maintenance, and troubleshooting.
Proper Tools: Use the correct tools and equipment for maintenance and assembly tasks to prevent damage to the fluid coupling and ensure safe working conditions.
Training: Ensure that personnel working with fluid couplings are adequately trained in their proper use, maintenance, and safety procedures.
Inspections: Regularly inspect the fluid coupling for any signs of wear, leaks, or abnormalities that could pose safety risks. Address any issues promptly.
Hot Work: Avoid performing hot work (e.g., welding, cutting) in the vicinity of fluid couplings, as the high-temperature fluids and components may present a fire hazard.
Consult Experts: If in doubt or facing complex issues with fluid couplings, consult qualified experts or the manufacturer for guidance.
Adhering to these safety considerations will help minimize risks and ensure a safe working environment when dealing with fluid couplings.



editor by CX 2023-10-12